Our Major Projects Framework partner, Willmott Dixon Interiors has handed over a new state of the art children's audiology testing centre in Brighton ahead of schedule.
The fit-out and refurbishment specialist has completed the £2.1 million design and build project at the Royal Alexandra Children's Hospital (RACH) on behalf of University Hospitals Sussex NHS Foundation Trust (UHSussex).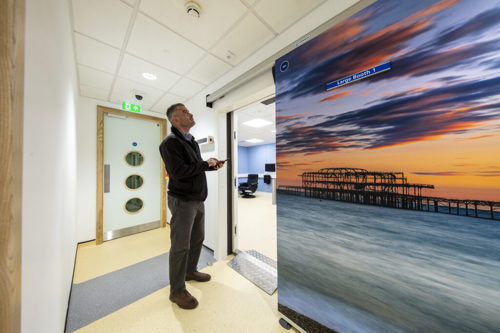 The new c.1,870 sq ft testing facility contains four purpose-built audiology booths, as well as new office space, a repair room and a vestibular room for balance and sensory testing.
It will allow the Paediatric Audiology Department to relocate from the adjacent Barry Building – which is earmarked for demolition – and integrate its existing services with the main children's hospital.
Awarded through our Major Projects Framework, the project saw the demolition and strip out of former administration and office areas at RACH to create space for the new centre. Framework partner, Willmott Dixon Interiors installed new structural steel in the building, alongside new raised floors, fire doors and live services.
The centre is built to a high acoustic standard, with finishes including acoustic vinyl flooring and acoustic ceilings throughout.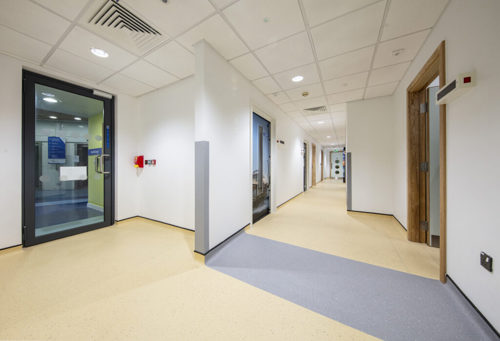 The 32-week project was delivered within a live, 24/7 hospital environment, and completed two weeks earlier than programmed. The contractor achieved an outstanding Considerate Constructors Scheme score of 44/45, with zero complaints received during its delivery. Items including radiators, lighting and ceiling tiles have been salvaged for use elsewhere within the hospital, and 99% of construction waste was diverted from landfill.
Alongside the main works, Willmott Dixon Interiors carried out a coordinated series of social value activities, which saw careers events, work experience placements and more than 50 visits by local school and college students. Site teams raised over £3,500 for charity through initiatives including the Brighton 10K and donated 70 hours of time in volunteering with local good causes.
Graham Shaw, managing director at Willmott Dixon Interiors, said: "Delivering a project of this size within a functioning hospital environment is never easy. We have also had to put strict dust control measures in place and navigate challenging site logistics throughout the duration of the build. We're hugely grateful to our site teams, supply chain partners and staff and patients at Royal Alexandra Children's Hospital for enabling this project to be completed in a successful and sustainable way, and ahead of time."
James Millar, deputy director of capital development and property at UHSussex, said: "The new children's audiology testing centre delivers a world class environment for staff and patients in Brighton. Our paediatric audiology teams do a tremendous job in the assessment and management of children's hearing and hearing devices.  These new and modern facilities will enable them to provide a more streamlined service in a better, safer and more suitable environment."
Clare Moore, client relationship manager (South) at Procurement Hub, said: "It is fantastic to see the relationship between UHSussex, Willmott Dixon Interiors and Procurement Hub develop further with the completion of this latest project. The Audiology department delivers vital services to children, the newly refurbished areas will provide a modern and welcoming environment for patients as well as an upgraded area for staff to continue delivering excellent services.
"Procurement Hub's Major Projects Framework allowed the Trust and Willmott Dixon Interiors to engage compliantly and collaboratively at a very early stage, testing the project budget and programme through a robust viability appraisal before entering into a formal design and construction contract. With value for money being demonstrated throughout, we look forward to supporting the Trust in delivering future projects that are needed to support the overall Capital Plan."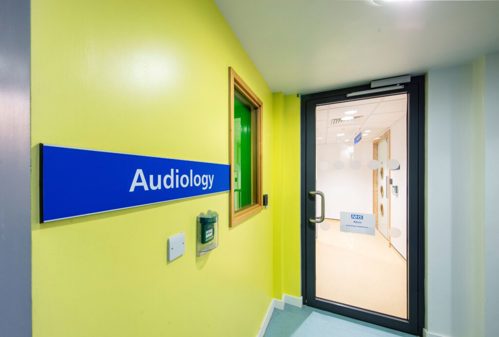 It is the latest project to be delivered by Willmott Dixon Interiors on behalf of UHSussex, following completion of works at Thomas Kemp Bridge and a two-storey modular extension of the Urgent Treatment Centre at Royal Sussex County Hospital. The contractor is currently ​​building a new Urology Consulting Department at the Princess Royal Hospital in Haywards Heath.
Click here for more information on the Major Projects Framework.