Expected to be one of the top facilities of its kind once operational, the new autism secure unit at Brooklands Hospital in Marston Green, Birmingham, is now under construction at the hands of national contractor Willmott Dixon.
The £7m project commissioned by Coventry and Warwickshire Partnership NHS Trust includes the demolition of an existing building on the hospital site and the subsequent construction of a single-storey building. This facility will provide eight ensuite bedrooms, one of which provides a seclusion suite.
Procured through our Major Projects framework, Willmott Dixon is part of a project team that includes architect Design Buro.
Dan Doyle, operations director at Willmott Dixon, said: "Being a business with rich Birmingham heritage, it's an honour to be playing a significant role in a local project that will enrich the community's healthcare offering.
"The completion of the new building will enable Brooklands Hospital to provide a high-level service to its future patients in an environment that accommodates their specific needs, which is something we're an expert in and are pleased to have been brought in to deliver."
With land prices and the cost of outward expansion the dearer option, redeveloping a disused area of the Brooklands Hospital site is a strategic and cost-effective move. Future occupants will be well catered for with the secure unit taking into consideration that distance from society is sometimes essential for recovering from negative experiences.
The new building will provide a safe environment with the bonus of optional social communal spaces that offer comfortable accommodation. It is particularly important for patients to have access to a safe communal space alongside self-contained areas to help with rehabilitation and avoiding prolonged periods of detrimental isolation. The balance and choice that is given to end-users has been strategically planned.
Nick Gibb, deputy managing director at Willmott Dixon, said: "We're pleased to get started on site at Brooklands Hospital and contributing to what will be a cutting-edge facility. There are important standards to meet when developing units of this kind and handing over an appropriate low stimulus environment is vital for patient wellbeing. We like to remind ourselves and our clients that planning for an end-user's experience begins well before they step through the door, which offers another motivation to create the best new building possible."
The project includes external considerations including an anti-climb roof and four-meter perimeter fencing, while the internal design elements incorporate high-quality ventilation and anti-ligature lighting.
Work is underway on a live site, so the project team has emphasised the importance of communication and collaboration to ensure the smooth running of construction.
Professor Ashok Roy OBE, Consultant Psychiatrist and Associate Medical Director at Coventry and Warwickshire Partnership NHS Trust, said:
"The new autism secure service fills the gap in service for a group of patients who have for a long time had poor access to services and have therefore languished in unsuitable surroundings such as prisons and distant hospitals. It will now be possible to provide a specialised, local service for the West Midlands which provide appropriate skilled treatment preparing autistic people to take steps towards well supported community living to achieve rewarding and fulfilling lives"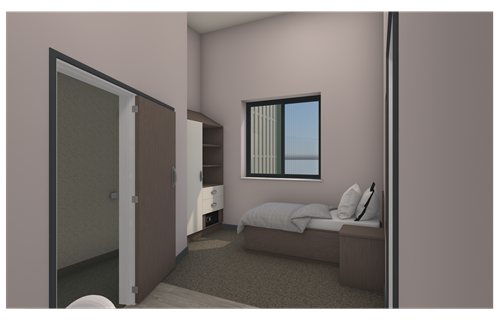 Sustainability is at the heart of the project, with the aim to achieve BREEAM Excellent certification a driving force. The building will also be heated by air source heat pumps, which is in line with Coventry and Warwickshire Partnership NHS Trust's commitment to no longer install gas-fueled systems.
Andrew Peck, Client Relationship Manager at Procurement Hub, said: "This is another fantastic project working with one of our NHS members, delivering through Procurement Hub Major Project Framework. Working with Willmott Dixon, the solution has provided a compliant and flexible route to market for the customer. We look forward to seeing the progress on this great project."
Work is set to be completed by March 2023.
Click here for more information on the Major Projects Framework 2.