Willmott Dixon's town centre regeneration experts are delivering a new interchange in Halifax town centre that will improve safety, comfort, connectivity and accessibility for people.
Procured through our Major Projects framework, the project is being delivered for West Yorkshire Combined Authority in partnership with Calderdale Council. It includes refurbishing the existing bus station alongside a bright and modern new facility to increase overall capacity on the existing site.
People using the interchange will benefit from a new fully enclosed passenger entrance and concourse, with better access and more shops, as well as real-time bus and rail information to help with onward journeys. They will also have a safe and secure waiting environment, and level walking routes for all users.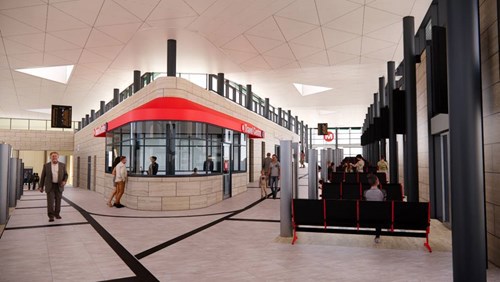 The result when completed in 2023 will be a modern, fit for purpose facility that complements the surrounding heritage, public realm and urban fabric of Halifax town centre.
Driving growth and jobs is central to Halifax's ambition to deliver economic regeneration that creates a place where people want to invest, live, work, visit and study. It aims to transform the way people travel in and around the town and is being delivered with money from the Leeds City Region Transforming Cities Fund, which is revolutionising gateways to towns and cities across the region by making it easier to walk, cycle and use public transport.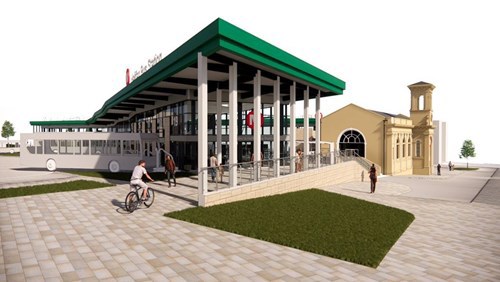 Alongside improved passenger facilities and better access, the new station includes environmentally friendly features such as enabling the future introduction of electric bus charging points, bike parking and solar panels, as well as a living roof complete with plants. Overall, the scheme will deliver more green space as well as other environmental benefits.
Councillor Susan Hinchcliffe, Chair of the West Yorkshire Combined Authority's Transport Committee, said: "It is more important than ever that we continue to invest in a modern, accessible transport network, which supports economic growth by connecting more people with jobs, training and education. Our region deserves a transport system which gets people to where they need to go, but also fills them with pride and with the confidence that we are moving forwards to deliver prosperity and achieve our aim of becoming a net zero carbon economy by 2038."
This latest interchange follows several of Willmott Dixon's specialist teams have delivered, with others in places like Stevenage and Lincoln.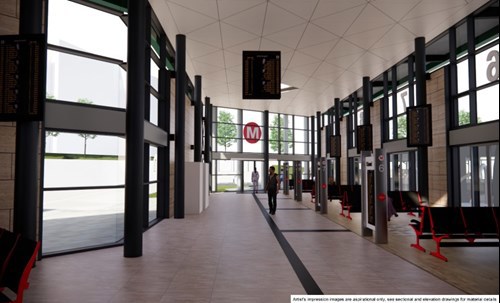 The £14m transformation is being delivered with architects, Stephen George & Partners as well as quantity surveyors, Aecom and structural engineer, Roscoe Development Management.
The new bus station will provide better quality facilities for passengers, including improved customer access point and information, better quality cycle parking, a single passenger concourse, real-time bus and rail information, and larger retail opportunities.
Click here for more information on the Major Projects Framework 2.