The Major Projects Framework 1 four year review is now available to read.
We are delighted to share with you some of the key successes and updates from the fourth year of Procurement Hub's four-year Major Projects Framework with Willmott Dixon and partners.
The Major Projects Framework was launched in 2018. With the collaboration between Willmott Dixon for projects in England and Wales, Robertson Construction Group for Scotland and Farrans Construction for Northern Ireland. The framework has allowed many UK public sector customers to accelerate their construction projects to provide a fully compliant access to construction expertise.
In April, we launched our Major Projects Framework 2 (MPF2) and look forward to even more success stories as we continue to deliver on our vision with our partners.
Here's what our Client Relationship Managers had to say: 
Andrew Peck, Procurement Hub's Client Relationship Manager (North and West):
"The diversity of MPF1 customer base was really evident when Willmott Dixon were able to deliver works in my area through the aviation centre in Newquay Cornwall. Breaking ground in June 2021, the Aviation Centre will be part of Spaceport Cornwall's Centre for Space Technologies, a £5.8M development that includes a satellite integration and mission operations facility. The Centre for Space Technologies will enable satellites to be integrated into rockets, ready to launch from Cornwall in 2022.
What I am looking forward to with MPF2 is a continuation of projects with the same customers. We are already seeing our same clients coming back to the solution as MPF2, knowing the success that can be achieved working with Willmott Dixon and Procurement Hub."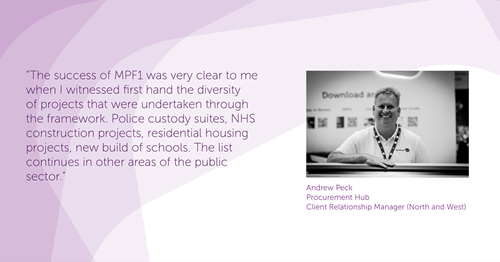 Clare Moore, Procurement Hub's Client Relationship Manager (South):
"On all the projects through the Major Projects Framework there has been a strong social value aspect benefitting the local community and training local residents who in some cases have been employed by Willmott Dixon or one of their sub-contractors.  
One of the projects that stands out for me is the EMD Cinema at Waltham Forest. I have been fortunate to be able to visit the refurbishment of this Grade II listed former cinema into a multipurpose entertainment venue on a few occasions and it is an outstanding project. The team have always been welcoming and to see how the project is progressing has been great and I cant wait to see it completed in 2023 and the benefit it will give back to the local community will be amazing.
The engagement from Willmott Dixon with our members has been exemplary and the feedback received has always been positive.
I look forward to more amazing projects going forward through MPF2 and the finishing of the current ones through MPF1 and continuing on the great partnership we have."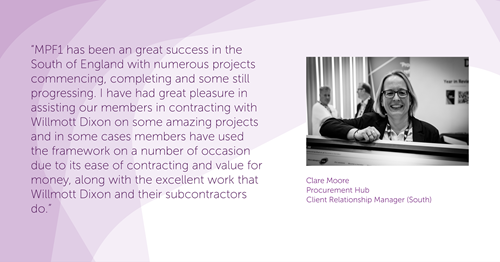 Louise Dodds, Procurement Hub's Client Relationship Manager (North, Scotland and Northern Ireland):
"Our Major Projects Framework is so much more than its delivery, it is being part of bringing people back to the heart of what it is all about.
Employing local people as sub-contractors supports the prevention of local economic leakage, social value means making a difference to someone's lives and building a school, refurbing an NHS wing or building houses also means we are part of improving the lives of others.
Some highlights for me have been, the Springfields Independent Living which won an award from Constructing Excellence due to its unique design and quality build. This demonstrates the unique position Willmott Dixon have in the market, where working in partnership with the client, consultants and their sub-contractors deliver results time and time again. In the North, The Halifax Bus Station which has so many complexities and interdependencies, makes it incredible how Willmott Dixon and their team, continue to deliver works whilst also navigating around a live bus station, that is integral to so many commuters on a daily basis.
And finally, in Scotland, a unique and exciting project at the Michelin Scotland Innovation Parc which is being delivered by Robertson Construction. This potentially world leading project in Dundee aims to bring together industry and academia with a focus on sustainable mobility and decarbonisation but will also will create new economic and employment opportunities across the region. Robertson bring experience, reassurance and a quality delivery in Scotland.
Clients can have confidence in working with a trusted framework provider and contractor partner."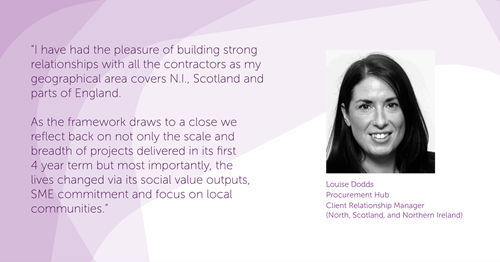 Download the year four review here to find out what we achieved together, here.
Click here for more information on the Major Projects Framework 2.