Modern Methods of Construction (MMC) can work to develop the design faster and more efficiently.
Major Projects Framework partner, Willmott Dixon Interiors are currently delivering the refurbishment and extension at Princess Royal Hospital for University Hospitals Sussex NHS Trust. This work is on an existing modular facility to create a new Urology Consulting Department. The project has been driven by the need to create more space and improved services. Involving the demolition and strip-out of the building, fit out, external works and MEP connection, we have been revamping the space. The new Urology department will accommodate over double the current capacity, at over 1000 new patients each month.
Modular Construction
Modular units were recently delivered to the project to form the building's super structure. These units were created off site and delivered to the project across three days. This was the chosen process for the project due to the nature of the existing building already being modular. Creating an extension in a modular way fitted with how the existing building was built. There were 10 modular units installed by our team during their delivery, which will help to form the Urology department.
Key benefits to adopting modular construction:
Reduced programme
Shorten time on site
Reduced disruption to the customer, users of the building, and local residents
Reduced need for storage on site
Lower volume of waste
Martin Glazebrook, Capital Project Manager for the Urology Investigation and Treatment Centre said, "This project combines the refit of an existing building with these new modules to provide a large, purpose-designed unit for our colleagues in Urology. It's a real pleasure to work on projects that you know will make such a difference to the experience of patients.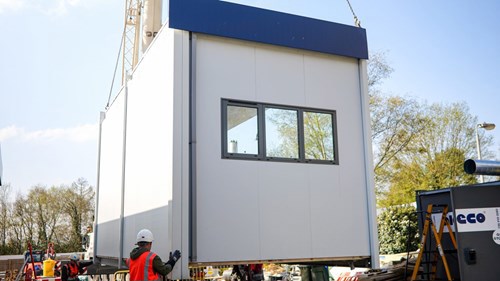 Providing a more sustainable building
Not only does this save time and reduce disruption, it also further enhances the sustainability of creating the building. Impressively, it can reduce waste by up to 90% than traditional methods of construction. The way in which the units are created minimises the amount of energy used in the process of manufacturing the building.
Likewise, a reduced programme has its sustainable benefits. This results in less travelling to work, reducing traffic movements by up to 90%. Leading to less traffic on the roads also further minimises disruption to local residents and staff at the hospital.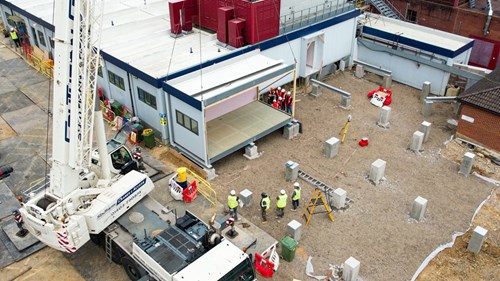 Innovating the way we do construction
Our experience in modular units at Princess Royal Hospital add to a body of innovative work to reduce programmes and create an efficient, high-quality refurbishment. We implemented a similar process for University Hospital Sussex NHS Trust on our refurbishment at their Royal Sussex County Hospital for their Urgent Treatment Centre.
As pressures further increased on the NHS during Covid-19, with an increase of patients in A&E, the hospital's need for additional treatment space was highly critical to support their everyday work. The customer needed this project to be completed at a fast-pace and effectively. Manufactured off-site, modular units were delivered and installed on site in an efficient manner to vastly reduce the programme length.
Containing 5 treatment rooms, a reception waiting room, accessible toilets, and a utility room, as well as commercial office space, this innovative way of working was successful. This was effective in building in a modular way for University Hospitals Sussex NHS Trust, helping to reduce the pressures of the Urgent Treatment Centre with additional space and improved patient flow.
To find out more about the framework, click here.