Our new Strategic Asset Management Services Framework is now available.
The new framework builds on the success of the previous Professional Services Framework which expired in December 2022 and has been refreshed to include specialist Lots including
Lot 1 - Stock Condition Surveys
Ridge & Partners LLP, Michael Dyson Associates, Pennington Choices
Lot 2 - Fire Risk Assessments
Pennington Choices, Ridge & Partners LLP, Terus Consultancy
Lot 3 - Energy Performance Certificates
Pennington Choices, Momentum 4, Rapleys LLP
Lot 4 - Asset Strategy
Pennington Choices, Faithorn Farrell Timms, Ridge & Partners LLP
Lot 5 - Energy Efficiency
Ridge & Partners LLP, Momentum 4, Faithorn Farrell Timms
Lot 6 - Multi- discipline option
Savills
The new framework will run for four years and will adopt our principles of transparency, simplicity, flexibility, sustainability, and ethical behaviour.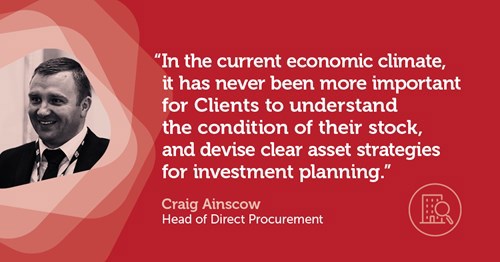 Here is what our successfully appointed suppliers had to say,
"In being appointed to the Strategic Asset Management Services Framework (SAMS), Faithorn Farrell Timms looks forward to establishing long term relationships with Registered Providers, and to supporting them with a 'bigger picture approach' that will not only guide them towards achieving corporate goals, standards compliance and sustainability objectives, but also in engaging with residents and the wider communities in which they operate."
"Ridge is delighted to have been appointed to four of the Procurement Hub SAMS Framework Lots. We admire Procurement Hub's ethos and values, and we look forward to supporting Procurement Hub's members in assessing their portfolios and helping them to find and add value, even in the most challenging cases, while optimising their safety and sustainability." - Matthew Stringer, Partner, Ridge and Partners LLP
"Savills are delighted to be appointment the 'Multi-discipline' lot on the SAMS Framework and are excited to be working alongside the Procurement Hub team. The framework provides our clients with a compliant and cost effective route to market, which is simple to access"
"We are absolutely delighted to be appointed on Procurement Hub's Strategic Asset Management Services Framework. We believe this framework will offer a new, exciting and compliant route to market for both our existing and future clients, allowing us to continue to be their trusted expert and grow as an organisation." -  George Franklin, Framework Manager, Pennington Choices Ltd.
"M-Four are pleased to be appointed to two lots of the Strategic Asset Management Framework, as we continue our work across the country to make improve lives and places for those who need it most. Our space on the framework will allow us to connect with new and returning clients, allowing our professional team to deliver a variety of energy solutions, providing value for money and expert project delivery at every step. We look forward to carrying out the work which will come from this Framework, as we support clients to meet their current and future goals." - David Falla, Director.
"Rapleys are delighted to have been appointed to the SAMS Framework to provide Energy Performance Certificates. We provide market leading services to help our clients across the UK to improve energy standards and our highly experienced and dedicated team look forward to working with framework members."
To find out more about the framework, click here.
Procurement Hub members can register to use the framework by emailing hello@procurementhub.co.uk or by contacting your Client Relationship Manager.